Most of us spend time in our cars every day and try hard to take good care of it. We take pride in our cars even though we may own a car that we think is rather ordinary or boring! Without breaking the bank, here are some creative ideas to make your boring car cool! Listed in order of our top picks. Each idea is rated for difficulty, cool factor, and cost.
Difficulty scale rated 1-10
Cool factor scale rated 1-10
Cost scale rated $-$$$
1. Vinyl Wrap your Car Interior Trim
Colored or patterned vinyl covering your interior stock trim pieces will dramatically change the look and feel of your car interior. Vinyl wrapping the trim of your car will make it look so cool! You can choose from endless finishes and transform the inside of your car from boring, faded, chipped trim to even look like carbon fiber.
Vinyl wrapping the interior trim is possible any place there is plastic, wood, or metal trim. Vinyl will stick to any of these materials and you can do things like change the silvery chrome plastic around the stereo, or shifter, or seat belts, or instrument panel to blue, or green, or carbon fiber, or leather.
The process of vinyl wrapping is easy to learn. All you need to be able to do is clean the trim well, cut the vinyl carefully with a knife and carefully around corners, and then apply slowly with a heat gun and a few plastic application tools. Vinyl will actually stretch to form to the desired shapes and around tough corners.
The tools you need to apply vinyl wrap to the interior trim are: simple green (or other cleaning agent), a rag, scissors, a razor blade, a plastic squeegee, and a roll of vinyl.
Purchase a vinyl wrap kit. Head over to Rwraps to check out their extensive selection of vinyl patterns with pictures to inspire you with ideas and to order all the materials and tools you need from there.
Difficulty: 6
Cool Factor: 10
Cost: $
Pro Tips – Vinyl Wrapping Interior Trim
The most difficult aspect of applying vinyl to interior trim is removing and reinstalling the trim for a clean installation.
Good quality vinyl is worth the extra money. The cheap stuff has more imperfections in it, stretches easier and fades faster than good quality vinyl.
You want something like this stuff that we like to use. Click this link to check out some 3M vinyl wrap on Amazon.
2. Plasti Dip Spray Paint the Rims or Hubcaps
Spray them metallic purple, gold, pink, or whatever color you would like to make your car cooler. The best part about using Plasti Dip is that it will peel of without much trouble if you decide you don't like it.
Can you use conventional spray paint for your wheels instead of Plasti Dip? Spray painting your wheels is feasible as long as the wheels are well prepped by sanding them everywhere to allow the paint to stick. The biggest down side of using conventional spray paint is that the paint is very difficult to remove so is considered permanent.
How much time does it take to spray paint wheels?
Spraying your rims is difficult because of the prep work. It should take two hours to clean the wheels to remove all dirt and grease, another two hours to prep the area for paint, and only one hour to paint. In about 4 hours you can transform the look of your car by spraying the rims.
Difficulty: 5
Cool Factor: 7
Cost: $
Pro Tips – Spray Painting Wheels
The better the preparation work is, the better the results of the painted wheels will be.
Use Plasti-Dip to try out a color that you think will look cool.
Plasti-Dip can chip or peel off and conventional spray paint is a better permanent choice.
3. LED Car Interior Light Kit
Add a light kit to underneath the dash, in the center console and around the bottom of the doors. By purchasing a light kit for the inside of your car, many come with multiple strips and some even have an option to pulse to music. Like this kit on Amazon. Follow the link to check this complete 6 strip LED kit out that can sync with music for less than 60$.
It is possible to cut and wire your own LED strips as well but with the affordability and convenience of many light kit options now available it is a great choice to get the kit ready to install! In a couple hours and about 60 dollars, you will transform the inside of your car to be so flashy.
The toughest part of this job is getting to the right wires in your car. Often the cigarette lighter is a good place to tie in to the electrical system because the cigarette lighters should come on with the accessories.
Most led light strips will come with adhesive on the back, but if they do not then the best thing to stick LED light strips on inside your car is 3M double sided tape.
Difficulty: 5
Cool Factor: 7
Cost: $
Pro Tips – Installing Interior LED Strips
Get a set of LEDs that can sync to music. They're so cool!
Get a LED kit with multiple strands of lights. You will want the strands to be separated and in multiple locations.
Do not place the lights anywhere that it will be distracting to you while you drive such as on the dash.
4. LED Lights Under Your Car
LED light installation is easier than you imagine and underneath your car makes for some awesome pictures and can be fun to turn on in the parking lot and when you are playing music in it with your friends.
You can add lights under the frame rails, under the bumpers, or in the door handles. Just a few accent lights make a big difference and add a wow factor to your car.
If this is interesting to you, then I did some digging and this is light kit I recommend. With Bluetooth, you will love being able to change the color of the lights and turn them on and off from your phone! This kit is complete with the Bluetooth connection, waterproof lights, and strong adhesive that will stay on as long as you want it to.
Here it is on Amazon for 72.99$
Difficulty: 5
Cool Factor: 6
Cost: $$
Pro Tips – Installing LEDs Under Your Car
Be aware that some light kits on the outside of your car are illegal while you drive on the road.
Get a good quality exterior LED light kit that is waterproof and is equipped with high quality adhesive.
5. Decals for the Windows (or bumper)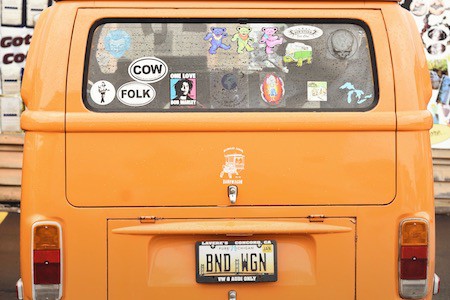 I'm not a fan of bumper stickers. I like to keep my bumper nice and clean. Not sure what it is, but I don't find many that I would stick to my bumper!
But I DO like to place a cool sticker on my window in the corner.
A sticker on the glass makes a car look cool. I do love stickers and a well placed, high quality sticker on the rear or side window can add to a car for sure to make it look cooler! For like 10 dollars you can add a touch of humor or personality to your car making it more how you like it.
Anyone can go search on Amazon or ebay and find cool car stickers so please do that and add something fun to your window!
But if you feel like adding a more personal touch or want to have some more fun with this, then at Sticker Mule you are able to actually design your own car stickers with their easy to use design software or by submitting your own image and for not very much money.
Difficulty: 1
Cool Factor: 5
Cost: $
Pro Tips – Applying Decals to Your Car
Stickers should be placed in the corners of the window or on the edge to not obstruct your view.
Sticker removal is best accomplished with a spray of window cleaner and a careful razor blade.
6. Change the Shifter Knob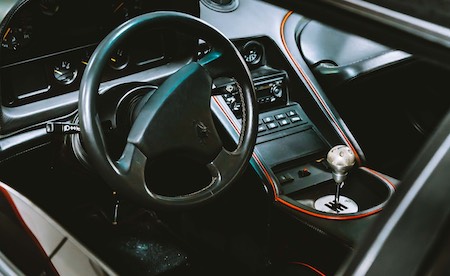 If you own a manual car then you already have cool car points for that! Make it even more personalized and better by swapping the shifter knob to something customized, personal, or just something you like.
Most shifter knobs unscrew to remove them. Gently unscrew the shifter knob counter-clockwise to remove and check the size of the threads. Most shifter knobs use 16mm x 1.50 I.D. thread size. The quickest way to get the right shifter knob is to purchase any size shifter knob and an adapter set that will adapt threads for 5/16 – 18, 3/8 – 16, 3/8 – 24, 7/16 – 20, 1/2 – 13, and 1/2 – 20.
A shifter knob thread adapter kit can be purchased for 14.99$ over at threepedals.com a reputable car accessory site with a good selection of shifter knobs.
If you don't own a manual car, then you should also change your shifter knob.. to a manual!
Actually that is not a simple swap so don't do that. But if you have been considering getting a manual car, they are definitely cool and very fun to drive. Click here to check out our other article about the best way to learn to drive manual – especially if you don't own a manual car!
Difficulty: 3
Cool Factor: 4
Cost: $
Pro Tips to Change the Shifter Knob
Browse Pinterest for cool ideas of shifter knobs.
Buy an adapter kit to allow you to buy any size knob.
Pick something personalized/ something of interest to you
7. Upgrade your Stereo and Speakers
Stereos in a car used to be the big thing. Just a few years ago they were a big expense and a big deal to have in a car. Well good news for us, they are still a big deal since a good radio and an awesome soundsystem is crucial, but fortunately now they are not expensive!
You can upgrade the radio for not too much money. You will save lots by wiring it yourself. Radio wiring is very simple actually. The basics of installing a car radio is to match up the labeled wires from the stereo with the power wires and the wires to the speakers. And that is it! You may have to add the mounting bracket for the new stereo but that too is provided with the stereo.
Speakers are even simpler. Mount them anywhere you want, but in place of the old speakers is convenient. Then Two wires from the speaker to the stereo and the stereo will have the places for them labeled. Easy as that! Pioneer is a preferred brand of ours for combining affordable but also high quality speakers. Go hunting for a new set of speakers on Pioneerelectronics.com
If we were to upgrade a stereo now to be as cool as possible, we would undoubtedly install a touch screen apple play and rear view camera capable stereo console in the dash.
Take a look at our favorite pick, right here on Amazon for just under 200$ you can have the latest tech in your car and be able to have apple play, easy to navigate controls and hook up a rear view camera to the screen as well.
Difficulty: 5
Cool Factor: 8
Cost: $$
Pro Tips – Upgrade the Stereo
Install it yourself because it is very simple.
Some modern stereos are made to fit into old car dashes. Contact the car manufacturer about which stereo will fit.
Run a speaker wire to the driver's side and to the stereo to be able to take phone calls over the stereo system.
8. Add a Seat Cover
Cover up the worn out corner of the seat where you climb into the car. How did I know the corner of your seat is worn out? Well, it is because it happens to all of our cars. If you have put a decent number of miles on your car it is natural for the entry side of the seat to wear out sooner than the rest.
If your seat is not worn, you may still like to add a seat cover to keep it from getting there. I personally like to add one to just the lower part of the seat where you sit on to keep the seat clean and protected.
The worst part about seat covers is that they never seem to fit properly. They are loose, don't look that awesome, move around, and it is just clear that there is a cover on the seat. You have not purchased the right seat covers if this is your experience so far.
What you need to do is spend a few dollars more to get a very high quality leather seat cover to cover up your worn out driver seat, make you feel comfortable while you drive in your car every day, and protect your seat! Like this incredible leather seat cover on Amazon. Pricey at $109.99 but you won't have an ugly cheap seat cover sliding around.
Difficulty: 2
Cool Factor: 4
Cost: $$
Pro Tips – Adding a Seat Cover
Don't get the cheap ones. They look terrible and don't stay in place
It is possibly to just use the lower or upper half of the seat cover if you choose.
Sew one yourself to fit the seat if you have some sewing skills.
9. Add a Steering Wheel Cover
Old steering wheels can become tacky, faded, and falling apart from being exposed to the sun. The best way to fix an old steering wheel is by adding a steering wheel cover to it. This is a much cheaper and easier solution than finding an entirely new steering wheel. You can add amazing things to your regular old steering wheel to upgrade it.
Steering wheel covers cost in the range of 20 to 40 dollars but make a tremendous difference to the look (and the feel!) of the inside of your car.
Measure the steering wheel. Common sizes for steering wheel are either 14″ or 17″ in diameter. This is all you need but some steering wheel covers may offer different sizes for different thickness of steering wheels. Common steering wheel thicknesses are between 2 3/4″ and 4 1/4″.
Difficulty: 2
Cool Factor: 4
Cost: $
Pro Tips – Adding A Steering Wheel Cover
Buy one from your local parts store so you can take a few outside and try them on the steering wheel. With the store's permission of course!
Put up a window shade to prevent further sun damage to your steering wheel.
10. Add radio controls to your steering wheel
Another amazing upgrade that will make your boring car cool is to add radio controls to the steering wheel. Adding radio controls will make it easy to make phone calls, and change music easily from the steering wheel just like new vehicles.
You thought steering wheel controls were only for cool new cars!…
Well they used to be until these awesome kits came out to upgrade your steering wheel. Check out a cool steering wheel control attachment like this one on Amazon.
Difficulty: 4
Cool Factor: 6
Cost: $
Pro Tips – Adding Controls to Steering Wheel
Most of these kits aren't that great at pairing with existing stereos.
Consider an entire bundle so everything syncs flawlessly such as this Pioneer complete stereo kit on Amazon
11. Tint your windows
Tinting your windows is an inexpensive upgrade that make a huge difference to the COOL factor of your car.
Should I tint my window myself?
Most people prefer to take their vehicle to a window tinting shop. If you have a chance to practice and have extra material to use before you attempt to tint your windows then perhaps you will be able to get the hang of it but window tinting has a big learning curve and you will be pleased with the choice to let a window tinting shop do it fast and do it right.
Difficulty: 8
Cool Factor: 9
Cost: $$
Pro Tips – Tinting Car Windows
Practice on other windows before your car if you do it yourself.
Take the car to a window tint shop instead and avoid bubbly window tint.
Look up the laws for your state of the level of tint legally allowed for each window. Generally the front windows cannot be extremely tinted.