No one should have to use a screw-type car jack or a tiny bottle jack to do regular maintenance on their car. Even for emergency use, the jacks equipped with vehicles are slow and difficult to use. Look for a replacement car jack, and it turns out they are expensive, and heavy! Harbor Freight has some floor jacks at a great price though. We all just have one important question:
Are Harbor Freight floor jacks safe?
Harbor Freight floor jacks have been tried and proven safe to rely on. Many people have a safety concern with a floor jack if it is strong enough to hold up their car. But in fact, floor jacks are not made to hold up a vehicle, jack stands are. For this reason a decent floor jack and set of high quality jack stands are recommended.
Since Harbor Freight floor jacks are safe, a floor jack from there will be a good purchase, but they sell two different brands of jacks as well as a variety of sizes. There is actually a lot that goes in to choosing the right floor jack for your purposes as well as the right set of jack stands so the following information will break it down simply to help you make and informed decision of what floor jack and what jack stands are the right buy for you.
Why Harbor Freight Jacks are Safe
Jack Stands are Meant to Take the Weight of the Car, Not the Jack
You should not trust a jack, no matter the quality. Always use jack stands to support the weight of the vehicle.
Jack stands should be placed under the vehicle to take the weight of the vehicle off of the floor jack immediately after jacking up the car. No floor jack should be relied on for continued support of a vehicle.
For this reason, a decent quality floor jack such as the Pittsburg and Daytona jacks sold by harbor freight will definitely make a good garage car jack for at home car repairs.
They are also safe because they have been tried and tested by many and seem to stand up to the quality of jacks made by other brands. Reviews and input from many people are included in this article to provide the general feeling of customers on these jacks.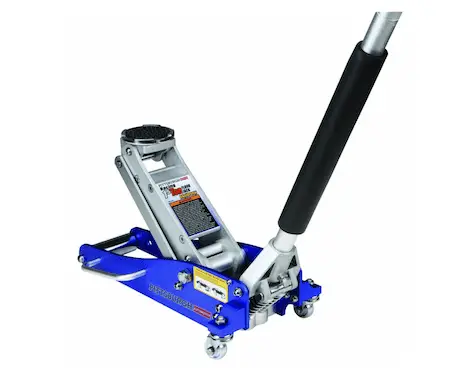 Harbor Freight Jacks: Are They Any Good?
They are safe, we get that but are Harbor freight jacks worth buying?
Several floor jacks sold by Harbor Freight are truly a good buy. The consensus from the customers that have owned these jacks is that they are a good purchase. Without paying much money, you get a jack that will get the job done! Most people need a car jack at home to use once every other month to change their brakes or the oil, and that's it.
No need to have a several hundred dollar jack in the corner if the 85 dollar jack at Harbor Freight will do the job just as well!
As a tool to use every day and rely on, there are better jacks to be had that can perform better making your job even easier. But for someone that is looking to do some maintenance on their car once a month, Harbor Freight jacks are worth it!
Personal Experience with Harbor Freight Jacks
The Positives of Harbor Freight Jacks from Personal Experience
Having personally owned a variety of Harbor Freight floor jacks, my experience is they are safe and reliable.
I have a variety of Harbor Freight floor jacks and have used them over the period of the past six years. I have never had one fail on me and have not had a serious issue with any of them.
Having tried the heavy duty shop jack, the lightweight racing jack, and the very small emergency jack, I will say that I was most impressed with the Aluminum Racing Jack and recently purchased another one to keep in the trunk of my car.
Yes, they are that lightweight and convenient!
The negatives of Harbor Freight Jacks from Personal Experience
The main difference between the Pittsburg floor jack and higher end jacks is the sensitivity of the lowering feature of the jack.
Cheaper jacks seem to begin lowering with very little rotation of the handle once it has been turned to the right position. Higher quality jacks can lower just as fast but they require a greater amount of rotation to lower very quickly.
Another difference is the wheel bearings seem to roll less easily on the Harbor Freight jacks. If you have a good flat surface for your car jack it will be just fine. It is just apparent that it is not quite as good of quality as the professional grade jack.
Bottom line is high end jacks are easier to maneuver and easier to control the lowering speed of the car. These are not make or brake features and leave the Harbor Freight car jacks a good option for your car maintenance work!
Reviews from Other Customers of Harbor Freight Jacks
Floor jacks have been available and have been recognized as a good deal for many years. After the many years these have been selling and have been used, the general consensus is best said by a customer referring to the Aluminum Racing Jack sold by Harbor Freight,
Another review gives the reply when asked their experience with a harbor freight jack was:
"I have used the 3 ton steel jack for 10 years with no problems. Very heavy though, it's a beast!"
Asking more than 40 people their experience with Harbor Freights floor jacks, only 5% would not recommend the jacks and the worst review was one customer that said he used it for work almost every day and had to replace it about once a year.
Everyone else says that the heavy duty steel jack is reliable and strong and the Aluminum racing jacks are lightweight, easy to use, and is the jack of choice for smaller vehicles.
Affordable Replacement for Emergency Car Jacks
Whether you are planning ahead for an emergency or doing some of your own car repairs, replacing the factory scissor jack that came with your car is a must.
Having changed tires on the side of the road cranking away at the scissor jack for fifteen minutes while the car balanced precariously, I can say that the harbor freight jacks are a huge upgrade and worth the purchase if only for this rare occasion.
By buying a relatively cheap jack, it is easy to replace the factory emergency jack in your car and will be able to change a tire and get off the road much quicker. So safer!
A Few Things to Avoid when Choosing a Safe Jack
Since product lines are continually changing, it is impossible to say that all of the jacks sold by Harbor Freight will always be safe. Products change and so can the quality of them.
Avoid things like plastic wheels. No car jack is going to be a good purchase if it has plastic wheels.
Size your jack properly by checking the weight of the vehicle or by looking at the jacks specs and the recommended size vehicles you can lift with the jack.
Also with such a wide variety of products, not all are excellent jacks and some are more recommended more than others. Here are the jacks sold by Harbor Freight and the ones you should consider buying.
Which Jack is Best: Sorted by Type
Aluminum Racing Jack
The Pittsburg Aluminum Racing Jack is extra light weight making it easy to maneuver and store in the back of your car if you want to. The 1.5 ton Aluminum Racing Jack by Pittsburg is the customers favorite of the Aluminum jack options.
This jack is best for:
Those with a sedan or smaller car
Recommended for easy transport
This jack is certainly a favorite for convenience and has the best value at only 85 dollars!
Maybe you didn't know that Amazon even sells them so you don't have to drive to Harbor Freight and load one up in your car! You can grab one on Amazon that will be shipped right away. Believe me, you will be glad you found this article when you decide to buy this jack because it is going to last you years! At an unbeatable price point.
Low Profile Jack
The low profile jacks sold at harbor freight are made by Pittsburg or Daytona. This type of jack has a reduced minimum clearance so that it can slide under lower cars.
This jack is best for:
Low profile cars
Storing in the garage because it is heavy
These are excellent for low profile cars. A must have for a car with less than 5.25 inches of clearance. This jack has a minimum height clearance of only 3 inches making it ideal for any low vehicle.
Steel construction making it very strong but also very heavy at 70 pounds for the 3 ton Pittsburg, which is the most popular heavy duty jack at Harbor Freight.
There are several good options with a 2 ton or 3 ton Pittsburg and a 3 ton Daytona with a long reach option for the Daytona.
The long reach 3 ton Daytona is our number one recommendation for tall trucks. This jack has a maximum lift height of 24 1/4″ which is 6 inches higher than the standard
Rapid Pump Floor Jack
Harbor Freight provides the option for a 3 ton or 4 ton Daytona or 3 ton Pittsburg Rapid Pump Floor Jack
They do seem to be rapid pumps because it does not take a lot of work to get the jack all the way to the 18 1/4″ maximum lift height.
The 3 ton Pittsburg floor jack is the consumer favorite and is an excellent choice for a garage car jack. At 70 pounds you don't want to be loading it into your trunk very often, but it is known for its strength and durability.
This jack is good for:
Full size vehicles
Garage car lift
Smaller vehicles but with added piece of mind
A long lasting quality jack at a low price
Many reviews from customers say things like, "I've had one of these jacks for 10 years now and it is just as good as it is heavy! Still going strong."
Definitely a good long term jack.
Small Emergency Jack
These jacks are great if you do not have a ton of space in your trunk but would like to swap out that crummy scissor jack.
I find these to be more convenient than a scissor jack but are not for regular maintenance use since they do not have the capacity to lift the car very high.
This jack is recommended for:
Small cars due to the limited max height of these jacks
If you need a small lightweight jack in your trunk but can't fit a racing jack.
There are better jacks, but sometimes you need a small one and if it is just for the emergency use every few years these are great to have.
What Size Car Jack Do I Need?
If you own a coupe or sedan or similarly sized vehicle you need a 1.5 ton rated floor jack. This will work for mid-size SUVs as well but as you get to SUV and full sized vehicles you should have a 3 ton floor jack.
| | |
| --- | --- |
| Car Type | Jack Size (minimum) |
| Coupe or Sedan | 1.5 ton jack |
| Truck or Van | 3 ton jack |
These are recommended jack sizes for average sized vehicles.
Extra large vehicles should be sized appropriately and use a lift if necessary.
The following are related questions that you may still have:
Are Harbor Freight Jack Stands Safe?
Harbor Freights jack stands are not safe enough to recommend and I do not trust them. Harbor Freight recalled several of their jack stands for welding defects that turned into a weak point causing several jack stands to fail. This is a perfectly good reason to determine that their jack stands are not safe.
Purchase a high quality jack stand set here on Amazon and you will be much better off and safe from worry about them failing.
Don't forget to not depend on a jack to hold up your car. Support it with jack stands right away!